weR2 produces new functional objects made with and inspired by contemporary artists. weR2 (we are two) is the collaborative venture for housewares and accessories launched by architect and interior designer Suchi Reddy and former gallerist Sara Meltzer.
weR2 has produced products with Eric Brown, Mary Ellen Carroll, Nathan Chrislip, Moyna Flannigan, Francesca Gabbiani, Kelly Lamb, Jason Middlebrook, Leanne Shapton, Kate Shepherd, and George Venson for voutsa.
weR2 is dedicated to creating luxurious items with our ever growing network of artists. Our 2016-2017 collection brings beautiful artworks to everyday textiles in the form of table linens, scarves and pocket squares. Our most recent collaborations include new products on fabric with with artists Alexander Gorlizki, Cornelia Parker and Donald Sultan.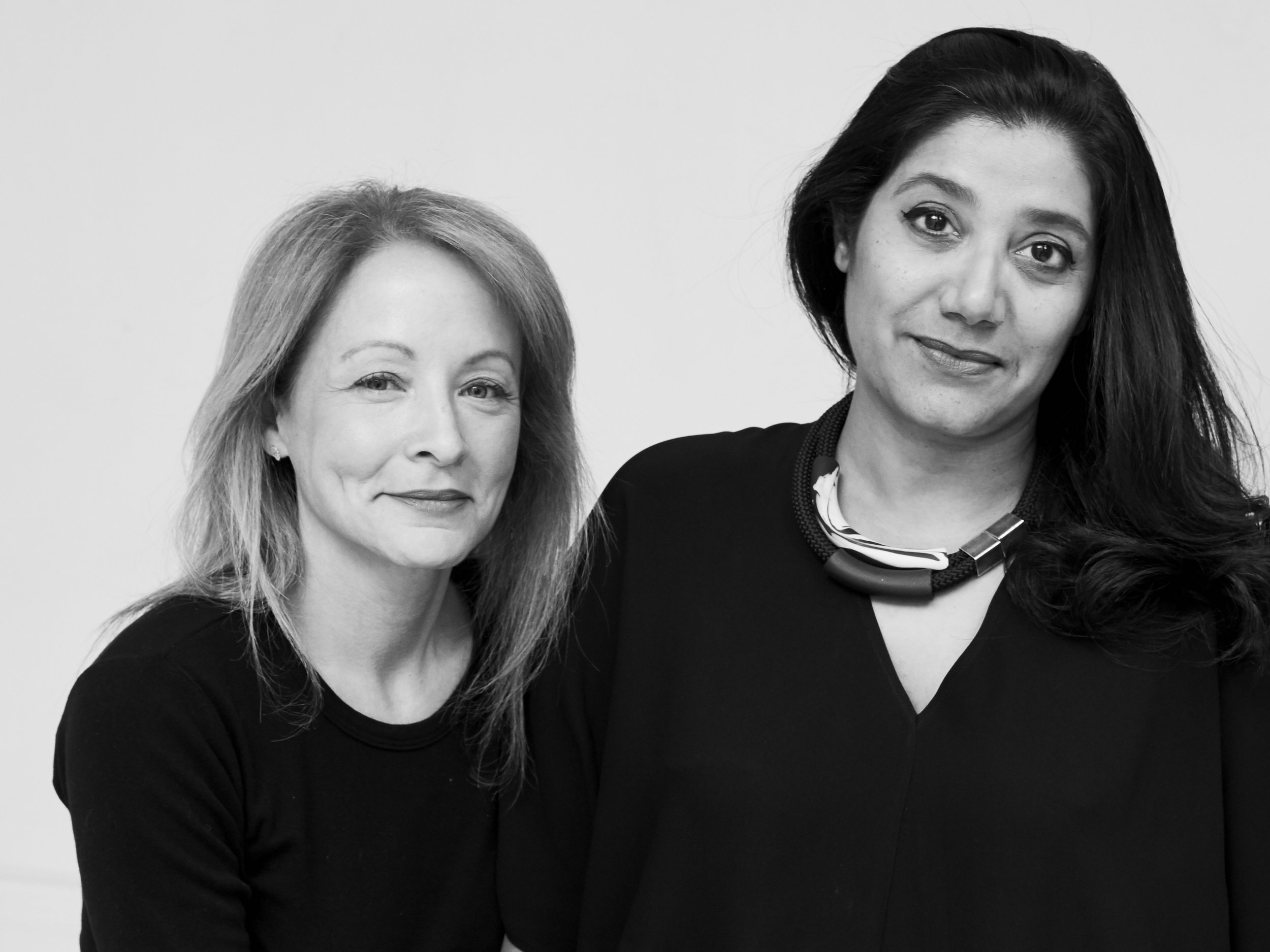 SARA MELTZER
& SUCHI REDDY
SARA MELTZER
Raised in New York City and surrounded by contemporary art her entire life, Sara Meltzer studied Fine Art and Art History at Northwestern University and received her MA in Arts Administration from New York University. In 1998 she founded the contemporary art gallery Sara Meltzer's On View… in SoHo. The gallery functioned as an experimental project space offering emerging artists their first solo shows.
In 2000, the gallery expanded and relocated to a large ground floor space in Chelsea as Sara Meltzer Gallery. Housed in a former parking garage, the innovative and cutting edge exhibition space was designed by LOT-EK Architecture. In 2005, the gallery relocated again to an extraordinary penthouse duplex space, also in Chelsea. In addition to representing a core group of New York- based and national artists, the gallery had a strong focus on international artists from Austria, Brazil, China, Cuba, Germany, Mexico, Sweden and Scotland. Meltzer had the pleasure of representing artists Roger Andersson, Felipe Barbosa, Lee Boroson, Andrea Bowers, Sarah Cain, Margarita Cabrera, Enrique Martínez Celaya, Stephen Dean, Moyna Flannigan, Francesca Gabbiani, Nina Katchadourian, Gabriel Kuri, Lovett/Codagnone, Luo Brothers, Jason Middlebrook, Edgar Orlaineta, Jude Tallichet, Julia von Eichel and Anna Von Mertens, among others.
A strong champion of contemporary artists since college, Meltzer was a longtime board member of Artists Space, a non-profit alternative space in New York, where she served as President from 2006-2009. Professional affiliations include the Guggenheim Photo Committee, Skowhegan School of Painting and Sculpture and is a Founding Member of the Whitney Museum of American Art. An avid proponent of architecture and design, she currently serves on the Board of Directors of Storefront for Art and Architecture, and is a huge fan of The Glass House.
SUCHI REDDY
Although she hails from Chennai, India, and still misses its tropical blossoms and soft sea breezes, Suchi Reddy is a naturalized New Yorker. Inspired and energized by the city's converging cultures and creative dynamism, she has made it the base for Reddymade Design, the architecture and interior design studio she founded in 2002. The studio has conceived residences ranging from the grand to the micro in city, country and far-flung lands, for celebrity clients and more discreet lovers of bespoke contemporary design. Reddymade has created boutique interiors for tastemaker brands such as Henri Bendel and Jimmy Choo, and high-end commercial interiors in architectural landmarks like Lever House. The studio is currently completing a mid-rise mixed-use building in Reddy's native city, the design of which will incorporate the work of emerging Indian sculptors. Always imaginative and often art-filled, these distinctive projects have garnered the studio numerous awards and features in a host of prestigious publications including the New York Times, Architectural Record, Interior Design, Dwell, New York Magazine, AD India, Platform and Vogue India. For two consecutive years Reddymade's work has been nominated for Interior Design's Best of Year Awards. MoMA PS1 selected the studio's short film 71% for their acclaimed festival exhibition Expo1, an exploration of ecological challenges, and the short Machine for Life, inspired by a series of conversations about the poetics of space and set in Reddy's apartment, was winner of Director's Choice Awards at the Rincón International
Film Festival.